RANDBURG, South Africa  – EFF leader Julius Malema had a busy week as he faced assault charges at the Randburg Magistrate's Court where his matter was postponed until March, but the biggest issue – for some – was Malema's use of white lawyers for his defence.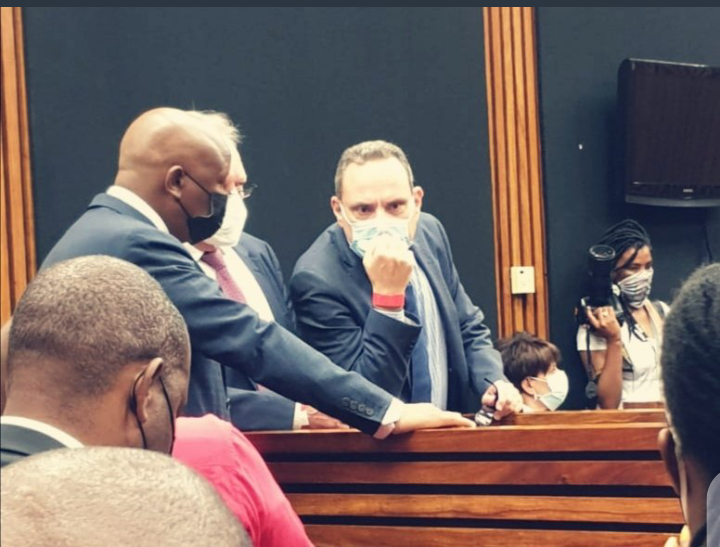 Malema and EFF MP Mbuyiseni Ndlozi have been accused of assaulting Lieutenant-Colonel Johannes Venter at the funeral of struggle icon Winnie Madikizela-Mandela, were in an uncompromising mood when they appeared before the court this week.
Inside the court house the pair confronted a man, who appeared to be with the opposing legal team.
They berated the man for allegedly impeding their path by sitting next to their dock.
In the court proceedings Venter maintained his allegation that he was pushed by both Malema and Ndlozi while he was still standing in front of the EFF vehicle making a call to the venue operation centre to get further instructions after Malema insisted on entering with a car which he said was not permitted to enter the cemetery where icon Madikizela-Mandela was laid to rest.
Venter this week told the court that the vehicle in which Malema and Ndlozi were travelling was not permitted to enter the venue.
However, Malema and Ndlozi maintained that they were not guilty of the claims brought by Venter.
The court was also told that Zindzi Mandela, the late ambassador and Winnie Madikizela-Mandela's daughter, wrote a statement to the court in which she said Malema was given permission to go to the Fourways Memorial Park cemetery.
However the biggest issue arising from the court case this week was Malema and Ndlozi's use of a white law firm to fight their battle.
Malema defended his choice in legal presentation during an address to EFF supporters who had gathered outside the court.
He said their Sandton-based attorneys, Ian Levitt Attorneys, were "attorneys of record" who were paid every month to represent the EFF everywhere, adding that they had done their job well.
"So why should we complain? We must hate them today because they're white?
"When we were losing cases with black lawyers, failing to submit the simplest thing like a one page and then we must use the same services, lose cases so that we can be projected as the most disorganised organisation with no direction?
"To hell with all of you!
"If you listen to these fools, you will be amoeba (sic), you will be shapeless.
"They will pull you in all directions, they will want you to go there and when you go there they will pull you in this direction and when you got to that direction they will pull you to that direction.
"Not me, they will never do that with me," Malema told his cheering supporters.
He added that he did everything deliberately, knowing its consequences and always stood by it and that he was hated because his detractors knew that they would never turn him "into an amoeba".
"We defeated many of them, do not listen to the doomsayers," said Malema.